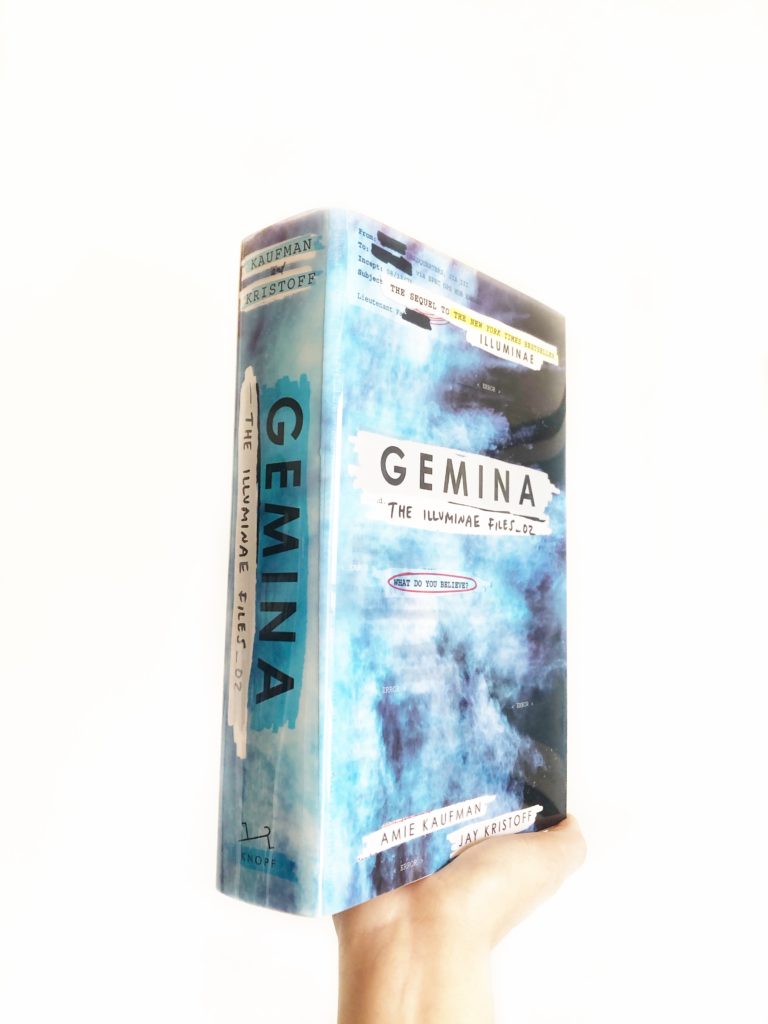 Produktinformationen:
Autoren: Amie Kaufman und Jay Kristoff
Seitenanzahl: 672 Seiten
Verlag: Knopf Books for Young Readers
Sprache: Englisch
ISBN: 978-0553499155
Hol es dir hier:
Thalia: https://www.thalia.de/shop/home/artikeldetails/ID44820021.html (15,79€)
Hugendubel: https://www.hugendubel.de/de/buch_gebunden/amie_kaufman_jay_kristoff-the_illuminae_files_2_gemina-25753471-produkt-details.html?searchId=1669729195 (19,99€)
Amazon: https://www.amazon.de/Gemina-Illuminae-Files-Band-2/dp/0553499157/ref=tmm_hrd_swatch_0?_encoding=UTF8&qid=1586427113&sr=8-3 (13,99€)
Klappentext:
Moving to a space station at the edge of the galaxy was always going to be the death of Hanna's social life. Nobody said it might actually get her killed.
The sci-fi saga that began with the breakout bestseller Illuminae continues on board the Jump Station Heimdall, where two new characters will confront the next wave of the BeiTech assault.
Hanna is the station captain's pampered daughter; Nik the reluctant member of a notorious crime family. But while the pair are struggling with the realities of life aboard the galaxy's most boring space station, little do they know that Kady Grant and the Hypatia are headed right toward Heimdall, carrying news of the Kerenza invasion.
When an elite BeiTech strike team invades the station, Hanna and Nik are thrown together to defend their home. But alien predators are picking off the station residents one by one, and a malfunction in the station's wormhole means the space-time continuum might be ripped in two before dinner. Soon Hanna and Nik aren't just fighting for their own survival; the fate of everyone on the Hypatia—and possibly the known universe—is in their hands.
But relax. They've totally got this. They hope.
Once again told through a compelling dossier of emails, IMs, classified files, transcripts, and schematics, Gemina raises the stakes of the Illuminae Files, hurling readers into an enthralling new story that will leave them breathless.
Meine Meinung:
Tatsächlich hat mir der zweite Band um einiges besser gefallen als der erste Band!
Gemina schließt zeitlich direkt an Illuminae an, allerdings spielt die Geschichte diesmal auf Heimdall, einer Sprungstation.
Somit lernen wir auch Hanna, die verwöhnte Kommandantentochter, und Nik, einen zweifelnden Mafioso, kennen. Beide sind nicht auf den Mund gefallen und ihre kleinen Streitereien geben dem Buch eine amüsante Atmosphäre. Auch Ella, Niks Cousine, kontert sehr gerne und bescherte mir das ein oder andere Lächeln.
Die ersten Seiten haben sich etwas gezogen, wodurch man zwar die Protagonisten kennenlernte, allerdings nicht wirklich eine Handlung vorhanden war.
Erst als Zerberus und seine Komplizen das Schiff überfallen, kommt Spannung auf. Und auch hier gab es wie in Teil 1 einige blutige Szenen, die mir aber um Längen besser gefallen haben!
Die Stimmung war sehr angespannt und der Siegeswillen stand bei allen sehr hoch, weshalb auch keine Langeweile mehr aufkam. Es wurde einige Pläne geschmiedet, die auch logisch und gut umgesetzt wurden.
Und in Mitten des ganzen Gefechts näherten sich Hanna und Nik an und verloren dennoch nicht ihren Humor.
Auch hier glänzt die Aufmachung natürlich wieder und ich finde, dass die Raumschiffe und auch die Gefühle in diesem Band viel besser und anschaulicher beschrieben wurde, sodass das Lesen erleichtert wurde und es mir auch mehr Spaß gemacht hat!
Gemina hat mich vollends überzeugt und ich freue mich schon sehr auf den dritten Band!
Gelesen vom 18.07.2019 bis 23.07.2019
Bewertung: 5 von 5 Sternen